PODOFO 7" Android 9.0 Car Radio Player for Fiat 500 2016 2017 2018 2019, GPS/Bluetooth/FM/RDS/WIFI/Mirror Link/Split Screen/USB
PODOFO 7" Android 9.0 Car Radio Player for Fiat 500 2016 2017 2018 2019, GPS/Bluetooth/FM/RDS/WIFI/Mirror Link/Split Screen/USB
Suitable models:
For Fiat 500 2016 2017 2018 2019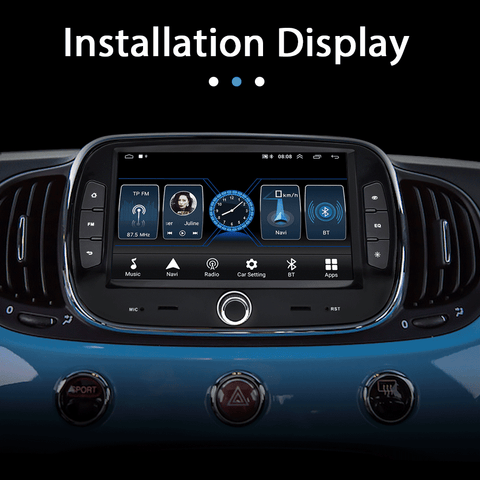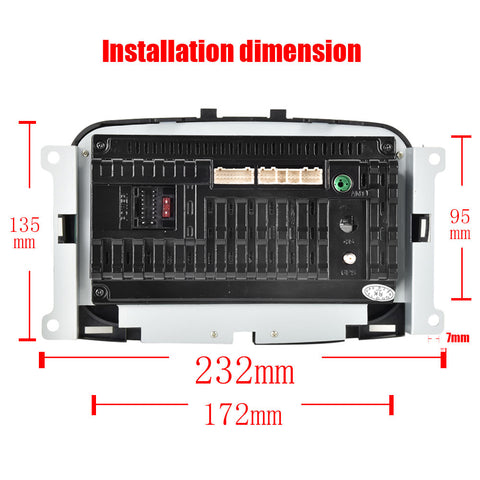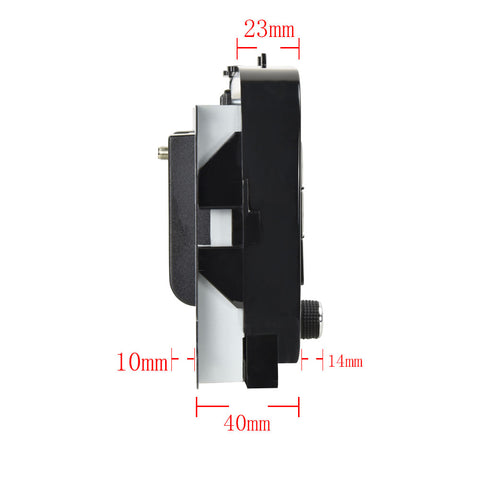 Features:
● HD 7'' Tempered Glass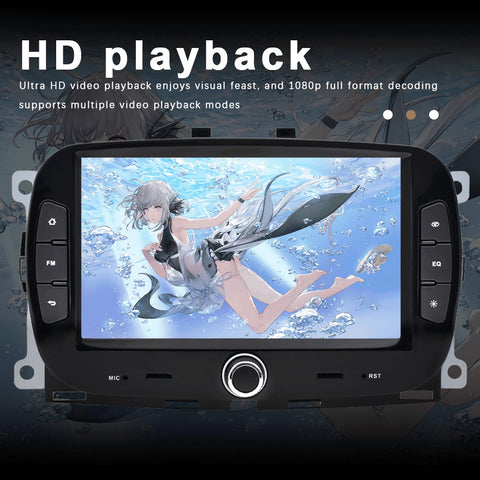 ● Support Split Screen Operation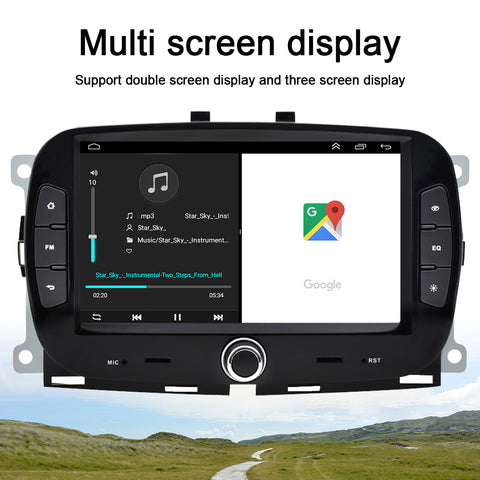 ● Upgraded Dual system mirror link: IOS/Android mirror link
   IOS one-way:IOS supports mobile phone one-way projection to the machine
   Android two-way:Android supports mobile phone two-way connection

● Built-in GPS Navigation: Users can purchase directly from play store for offline navigation. With wifi connected, Google Maps can be used perfectly, you can go anywhere you want and never get lost again.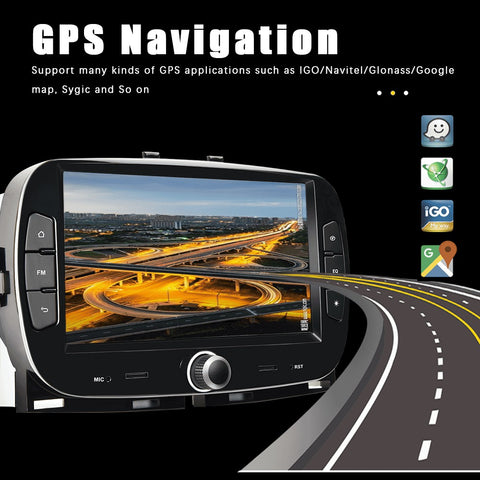 ● Built-in WIFI: Connect to WIFI, and you will find a new world,the most convenient one is the online map.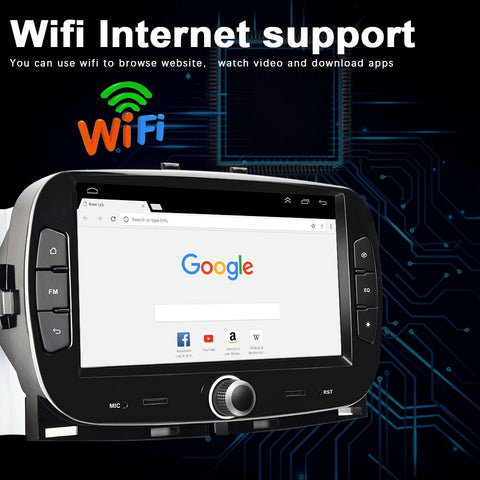 ●Rear view camera: Need to choose the camera,the car is connected to the reverse gear to automatically switch(requires optional)

●Steering wheel control: Through it you can control the functions you need by steering wheel, more convenient
●Bluetooth with A2DP/Hands Free/Phone book:Bluetooth hands-free calls,Bluetooth music player,Auto loading phonebooks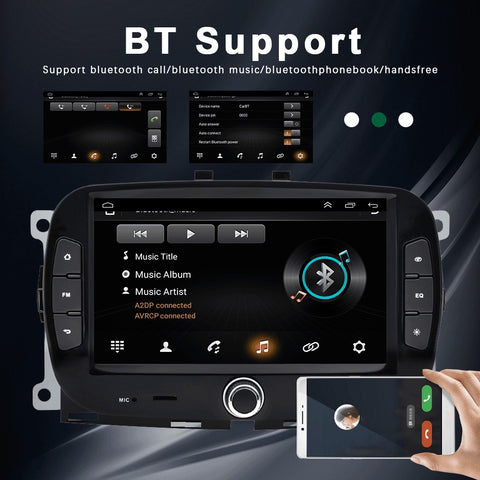 ●Driving recorder: You can choose a recorder, and the car has playback, the evidence can be retained
●Double USB adapter input
● Support multilanguage: Support languages, up to 40 national languages
●FM RDS Radio: Online music you can transfer the music to the car stereo by FM to enjoy the original car stereo sound,with 18 preset stations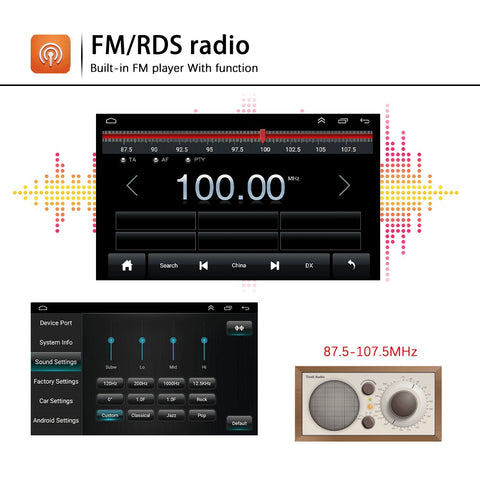 More Interfaces: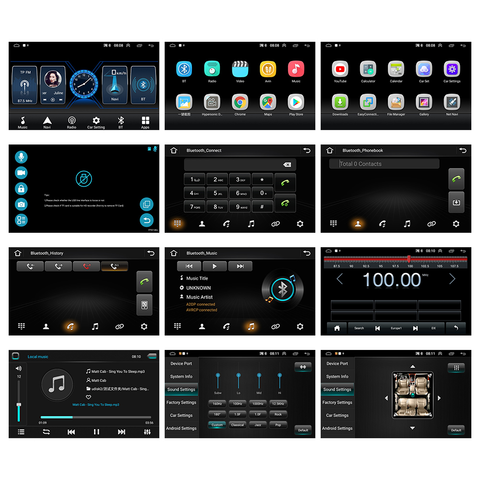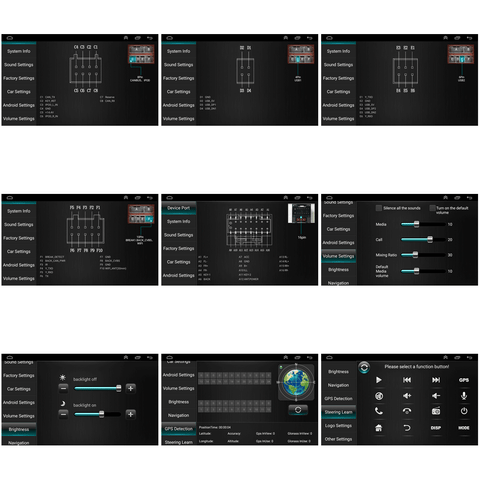 Specifications:
System: Android 9.0
Chipset:8227L-DEMO
Screen size:7''
Memory:1GB (RAM)+16GB (ROM)
Screen resolution:1024*600
Mirror link:Android/IOS
Radio Band:FM/RDS
Radio chip:MTK
Power output:4*45W
Work temperature:-40℃-80℃
Steering wheel control function:Support
Bluetooth version:4.0
Power amplifier chip:7388
Video output:Support
WIFI:Support
USB:Double USB interface
Reversing input:CVBS
External microphone: support
Audio format:APE/FLAC/WAV/MP3/WMA etc
Video format:MKV/RMVB/AVI/MP4/MDV etc
Picture format:PNG/JPEG/JPG/GIF/WBMP/BNP etc
Factory setting keyword:8888
Language:Chinese/English/French/Italian/Korean/Japanese/Arabic/Spanish/Portuguese/Russian/Turkish/Vietnamese/Hebrew/Polish/German

Package Included:
1 x Car Radio Player
1 x Power Cable
1 x Canbus
1 x GPS Antenna
1 x Camera Input
1 x RCA Input and Output
2 x USB Cable
1 x Radio adapter cable
1 x USB adapter cable
1 x  Instruction manual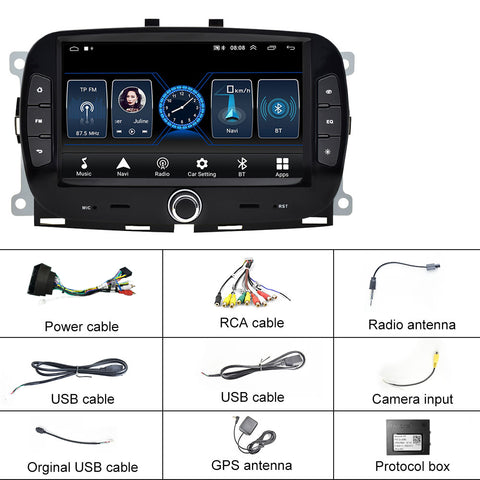 Tips:
1. Why can't turn on the car radio ?
1.1 Please check the Voltage of car radio:12V
1.2 When you test this car radio,you can combine the red and yellow wires and connect them to the positive side of the power supply.Black line to negative power supply.
1.3 Replace the same type of insurance to test the car radio.
Note: Please must use our power cables to connect our car radio,it is not possible to insert the original car plug directly into our machine.

2. Why the car radio will show "No Signal" when we reversing?
Please check if the camera's line is properly connected to the car radio.
Note:The video port of rear camera must insert the "CAMIN" port of car radio.

3. Why does the camera display "!" and "Can't watch video while driving" when I use USB to watch videos?
Please turn off the "Video Warning" function in the settings,then will be OK.

4. Why can't search FM?
4.1: No radio antenna inserted;
4.2: Please check if the radio antenna is plugged in. Please insert more antennas several times to make it well contacted;
4.3: The signal of your location is not good. Please go to a better place to test again
4.4: The radio antenna on the car is broken/no effect; please replace the radio antenna and test again.

5. Why can't connect the Bluetooth of car radio?
5.1 Open the phone settings interface, open the Bluetooth in the Bluetooth function, search for Bluetooth devices, find the player's Bluetooth model to be paired; if you need a pairing code, enter 0000; if not, try 1234 or 123456.
5.2 Please try to use another mobile phone to test this function.
All methods are correct and still cannot use Bluetooth, Please unplug the plug on the back of the player and plug it in after 3 minutes.
RETURN POLICY
Customer satisfaction is always be important to PODOFO. Quality Control Teams inspected each items before shipping. At the same time, it is also very important for you to carefully confirm the product details before paying. If you are dissatisfied with the product for non-personal reasons, please contact with us for help.
You can apply for return or exchange within 30 days after receipt.
Please
confirm to the customer service before the application that the product packaging is complete, the product is not damaged, and the appearance does not affect the second sale
If the received goods are damaged or non-artificial quality problems, you can contact customer service to confirm and apply for a replacement.We will re-ship for you as soon as possible.
If you buy the mistaken product and need to exchange it, please contact customer service and send it back to our designated warehouse, and we will send you the right one as soon as possible.

Note:
The shipping charges are non-refundable.
Import duties / taxes and customs fees are non-refundable.
Seller And Buyer Responsibility:
 When PODOFO sends the wrong goods or the product is damaged during transportation, we will bear the cost of return or exchange.
Customer's responsibility
Any errors or quality problems caused by the buyer shall bear all return or exchange costs.